Winners of BAF Inter-School Archery Competition
25 Dec 2016   The winners of the BAF Inter-School Archery Competition (held 20 & 21st Dec 2016) is being announced as below in corresponding categories and their prize items. The individual winners are from among the 402 students and teams from 73 schools that participated in the tournament. The tournament is part of the grassroots/ school program dedicated to 60th Birth Anniversary of the 4th King last year.
The tournament has received support from BOC, SEISA, Yangphel Archery, Monggar Dzongkhag Administration, Gyelposhing CS staff and management, KHP and people of Monggar.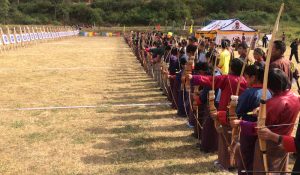 JUNIOR GIRLS INDIVIDUAL
Bronze (medal; certificate and cash Nu. 2000/-):Kinley Choden (Rongthung PS)
Silver (medal; certificate and cash Nu. 4000/-): Tshering Dollar (Brekha PS)
Gold (medal; certificate and cash Nu. 8000/-): Leki Dema (Wama PS)
JUNIOR BOYS INDIVIDUAL
Bronze (medal; certificate and cash Nu. 2000/-): Thinley Wangchuk (Tsangpo PS)
Silver (medal; certificate and cash Nu. 4000/-): Ugyen Phuntsho (Bartsham PS)
Gold (medal; certificate and cash Nu. 8000/-): Tashi Jamtsho (Bumpazor PS)
JUNIOR GIRLS TEAM
Bronze {medals; certificates and cash Nu. 2000/- x 3=Nu. 6000/-) with Nu. 1000/- for School Rep}:Tshangpo PS (Trashigang)
Silver (medals; certificates and cash Nu. 3000/-x 3 = Nu. 9000/-with Nu. 3000/ for School Rep):Wama CPS (Monggar)
Gold (medals; certificates and cash Nu. 4000/-x 3 = Nu. 120000 with Nu. 5000 for School Rep): Tsakaling PS (Monggar)
JUNIOR BOYS TEAM
Bronze {medals; certificates and cash Nu. 2000/- x 3=Nu. 6000/-) with Nu. 1000/- for School Rep}:Lumang PS (Trashigang)
Silver (medals; certificates and cash Nu. 3000/-x 3 = Nu. 9000/-with Nu. 3000/ for School Rep): Baging PS (Monggar)
Gold (medals; certificates and cash Nu. 4000/-x 3 = Nu. 120000 with Nu. 5000 for School Rep): Tshanpo PS (Trashigang)
SENIOR GIRLS INDIVIDUAL
Bronze (medal; certificate and cash Nu. 2000/-):Sangay Choden (Monggar LSS)
Silver (medal; certificate and cash Nu. 4000/-): Sonam Wangmo (Monggar HSS)
Gold (medal; certificate and SEISA Japan Scholarship): Sonam Choden (Monggar HSS)
SENIOR BOYS INDIVIDUAL
Bronze (medal; certificate and cash Nu. 2000/-): Kelzang Dorji (Tashitse HSS, Trashigang)
Silver (medal; certificate and cash Nu. 4000/-): Yeshi Wangchuk (Dungtse CS)
Gold (medal; certificate and SEISA Japan Scholarship): Nidup Dorji (Rangjung CS)
SENIOR GIRLS TEAM
Bronze {medals; certificates and cash Nu. 2000/- x 3=Nu. 6000/-) with Nu. 1000/- for School Rep}: Jampeling HSS (Trashigang)
Silver (medals; certificates and cash Nu. 3000/-x 3 = Nu. 9000/-with Nu. 3000/ for School Rep): Monggar HSS (Monggar)
Gold (medals; certificates and cash Nu. 4000/-x 3 = Nu. 120000 with Nu. 5000 for School Rep): Jigme Sherubling HSS (Trashigang)
SENIOR BOYS TEAM
Bronze {medals; certificates and cash Nu. 2000/- x 3=Nu. 6000/-) with Nu. 1000/- for School Rep}: Tashitse HSS (Trashigang)
Silver (medals; certificates and cash Nu. 3000/-x 3 = Nu. 9000/-with Nu. 3000/ for School Rep): Kangpar PS (Trashigang)
Gold (medals; certificates and cash Nu. 4000/-x 3 = Nu. 120000 with Nu. 5000 for School Rep): Gyelposhing CS (Monggar)