Bhutan's Rio 2016 Olympian
Aug 10, 2016       If the 5th ranked (11th World Seed) Tuiana Dashidorzhieva thought that it would be easy win over Rio 60th ranked (229th world ranking) woman archer during the first round of the eliminations of Rio Olympics #Archery Competition (#Rio2016), then she was in for surprise. In fact, she may never forget the fight this athlete, ranked some 200 places below, put up.
This lower ranked athlete the #Bhutan 's Karma drew 3 of the 5 sets that the two women shot during the Aug 10 01:44 AM eliminations match (Bhutan time) at #Rio2016.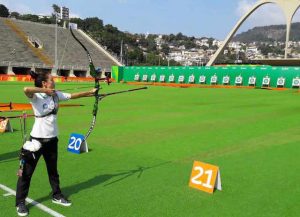 In the very first set, Karma equalled 26 points of Tuinana. (This is 27 points out of 30 points that 3 arrows bring; each arrow has possibility of shooting 10 points). The Russian won the second set with 28 points against 21 of Karma; then Karma really unsettled the Russian as she shot to equal both the next sets at 26 and 27 points each. Tuiana won the last set proving herself but it was not without having to look over her shoulders too often.
Karma despite the lower rankings, proved to be worthy opponent to the much higher ranked Russian. While season's point is one point lower than her all time high score in International arena – what distances Karma from her peers is the ability to maintain scores that are similar to her home grounds. (Often athletes across all the sports usually score less in competition outside than at home).
Karma's home score are the highest among her peers in Bhutan and a result of total dedication that is demanded of her as the national team member of #Bhutan (Bhutan Archery Federation). Often, her regime starts from 6 in the morning to 6 in the evening, with not only massive number of arrows shot during the day but exercise (including long distance cross country running built into weekly schedule).
Karma has become used to gruelling schedule over the time since she started archery for the first time ever in 2009. Since then, Karma has represented Bhutan in several international competitions, notably the last South Asian Games (in Shillong, India, February of 2016) when she secured three bronze medals as individual archer, women's recurve team member and mixed team member. She has also represented Bhutan in 19th Asian Championship and World Championships in Denmark and Turkey.
Karma comes from Trashiyangtse Khamdung village of Bhutan and is one of the 7 siblings that she grew up with. To many of her siblings and her friends, she is known as "Petay" which has been sometimes used as prefix to her single name.
The Rio Olympics was the first Olympics that Karma has ever attended and going by her performance, it seems it will not be the last. The World Archery family has been proud that she is one of 3 archers in the world that are the flag bearers for their country. Karma has been our flag bearer and representation of the best within the Bhutanese to the world – dedication, "grace" and "dignity" (in words of His Excellency the Bhutan's Prime Minister ) along with excellence within our heritage – the archery.