BAF Entry Level Archery Coaching Course
BAF Entry Level Archery Coaching Course (24th – 31st Jan)
25th Jan 2015    The Entry Level Archery Coaching Course have begun from 24th Jan at Sherubtse, Kanglung. A total of 19 participants (School Sports Instructors, PE Teachers) from different corners of Trashigang District are participating this course, which would enable them to teach the interested students in their schools.  The participants would be awarded nationally recognized certificates. There would be 1st Bamboo Recurve Bow Competition held to end the course on the 31st Jan.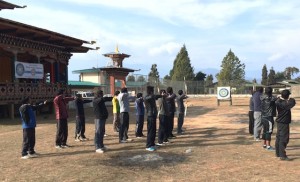 The Competition is first ever Bamboo Ranking Event done in the Kingdom of Bhutan and would have participation from the schools, where Recurve Archery have already been started in year 2014. These schools are Jampeling HSS, Kanglung PSS, Rongthung PSS and Yongphula MSS. The archers of these schools will compete in this competition, where they will shoot for cash prizes and certificates. The competition would be preceded by 3 days of recap and orientation coaching camp. (The registration form to the competition, click here)
Both the competition and Coaching Course for Coaches are part of the federation's grassroots program, whereby it has undertaken to bring archery to all schools by 2020, a goal to affect the youth with dedication to His Majesty the Fourth Druk Gyalpo during this year of His Majesty's 60th Birth Anniversary.
There are more pictures on the Bhutan Archery Federation FaceBook page