BAF East Campaign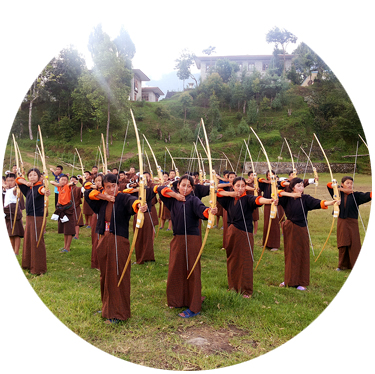 The BAF EAST CAMPAIGN is first of the efforts of the federation to reach goal of "Archery in All Schools by 2020" that is being dedicated to celebration of 60th Birth Anniversary of His Majesty the Great Fourth.
In order to extend such a reach to the schools and at grass root level, the Bhutan Archery federation has decided to go regional by first opening an office in the east where there is high population density and good indigenous archery tradition in both as sport and indigenous equipment production.
After months of deliberation and research, the location has been chosen as Kanglung, which as block/ Gewog has highest density of population and schools with our target age group of 12-14 years.  Kanglung as location has all of the service providers in terms of communication, banking, etc. and is centrally located by road in the eastern side of Bhutan.
The BAF East Campaign is long term project aimed at developing archery at grass root level, by involving select schools and providing coaching at regular basis. It involves direct intervention by BAF coach as well as training of School's Sports Instructor for monitoring and further development.  In essence, through this campaign it is hoped that high number of young talents can be nurtured to world-class level and serve as continuous pool for archery talents to be groomed to the world class level.
For more information and to sponsor the campaign, click here